General Sewing Classes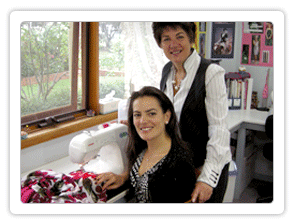 Beginners, Intermediate and Advanced
Morning, Afternoon, Evening and Weekend Classes
One-on-one Tuition available or maximum 7 Students per class
Sewing machines and overlockers provided in class
One day workshops to full all year round teaching terms
Children's classes and school holiday activity classes
Our sewing classes are perfect for you if
You're a complete beginner or you're an advanced sewer and would like to perfect your sewing skills in an inspiring, uplifting teaching environment, we have classes available for you!
We teach all generations, from kids aged 8 to seniors aged 88 and everyone in-between!
If you're new to the area and would like to meet like-minded creative people and make new friends, this is the perfect place for you!
Learn how to sew
Make your own unique clothes, women's and men's wear, baby & children's, lingerie, swimwear, maternity, embellishing and appliqué, soft furnishing, bag making, stretch and woven fabric garments, casual and corporate wear and after five, debutante and bridal.
Learn to co-ordinate and maximise your wardrobe, garments and accessories with Maree's ever so popular exclusive wardrobe planning techniques!
Sewing School Location
Maree's Sewing School is set in a country style at Rosewood Cottage at 23 Kalkarra Cres, Mount Duneed, Victoria, Australia 3217.
It has natural light, an extremely spacious sewing area, sewing machines and overlockers are provided for your use, haberdashery to purchase, inspiring displays, and dining and kitchen facilities all set amongst to the beautiful expanse of Maree's Rose Garden.
The Maree Pigdon Sewing School is a relaxing yet inspiring and fun place for creative people or group of people to come and learn how to sew, meet new friends, escape from everyday life and fulfil their creative desires.
SEWING CLASS TERM Dates 2023
Term 1 - Monday 20th February to Thursday 6th April 2023 (7 weeks)
Term 2 - Monday 1st May to Thursday 22nd June 2023 (8 weeks)
Term 3 - Monday 24th July to Thursday 14th September 2023 (8 weeks)
Term 4 - Monday 16th October to Thursday 14th December 2023 (9 weeks)
Monday to Friday, morning 9.30am to 12 noon; afternoon 1pm to 3.30pm, full days 9.30am - 3.30pm and evening classes 7pm to 9.30pm are available. Positions fill fast so please book your spot asap!
KIDS sewing CLUB DATES 2023
Summer School Holiday Program Not running.
Term 1 -

Wednesday 15th February until Thursday 6th April 2023
Easter School Holiday Program Tuesday 18th & Thursday 20th April 2023
Term 2 - Wednesday 3rd May until Thursday 22nd June 2023
Winter School Holiday Program Tuesday 27th & Thursday 29th June 2023
Term 3 - Wednesday 26th July until Thursday 14th September 2023
Spring School Holiday Program To Tuesday 19th & Thursday 21st September 2023
Term 4 - Wednesday 18th October until Thursday 7th December 2023
Term's - Wednesday 4.15pm until 6.15pm & Thursday classes 4pm until 6pm
Holiday Program's - Tuesday & Thursday 9.30am until 3.30pm
zero to sewing in a weekend - beginner sewing clinic dates 2023
Term 1 - Saturday 4th & 18th March 2023
Term 2 - Saturday 27th May & 3rd June 2023
Term 3 - Saturday 2nd & 9th September 2023
Term 4 - Saturday 18th & 25th November 2023
x2 Saturday calsses per course, 9am until 5pm both days.
Private lessons
Private Lessons also available on request.
Prices
| | |
| --- | --- |
| General Sewing Class (per class 2.5 hours) | AUD $54.00 |
| One-on-one personal Tuition (per hour) | AUD $195.00 |
| Beginner Sewing Clinic (per course) | AUD $325.00 |
| Kids Sewing Classes (per course) | AUD $325.00 |
Maree and her team have always enjoyed teaching students of all ages and standards so enquire within and BOOK ONLINE HERE to start sewing and designing today! Whether it's making something once off, a one-day workshop, do it yourself (DIY) home project or to develop a life-long skill of sewing and dressmaking, Maree can teach you excellent and thorough step-by-step basic sewing skills to perfection, taking you through your own journey to sew like a professional.